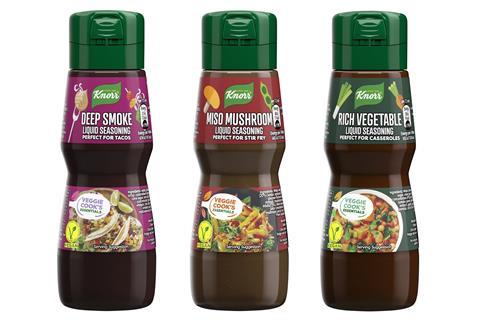 Knorr is foraying into a new format with the launch of vegan-friendly liquid seasonings.
The stock and seasonings brand is launching a trio of liquids, which it billed "the perfect scratch cooking ingredient" that can be added to meals at the start of cooking or just before finishing.
They are: Rich Vegetable, Miso Mushroom and Deep Smoke.
All three liquid seasonings are suitable for vegans and come as a response to the growing number of people identifying as flexitarian, said Knorr owner Unilever.
They were designed to "bring full-on flavour to meat-free meals" it added, and "couldn't come at a better time" in line with the trend for scratch cooking.
Unilever foods marketing director Fikerte Woldegiorgis said the liquid seasonings range was "the secret ingredient to really unlocking the incredible flavour of veggie meals" and "pack a punch" when it comes to flavour.
The liquid trio joins Knorr's veggie stock pots in the Veggie Cook's Essentials range. To promote the range, it has teamed up with TV chefs The Hairy Bikers for a campaign called #CheatOnMeat, where it has created a host of "easy-to-prepare and great-tasting" meat-free meal recipes.
The trio has launched exclusively into Tesco (rsp: £2.30/150ml).