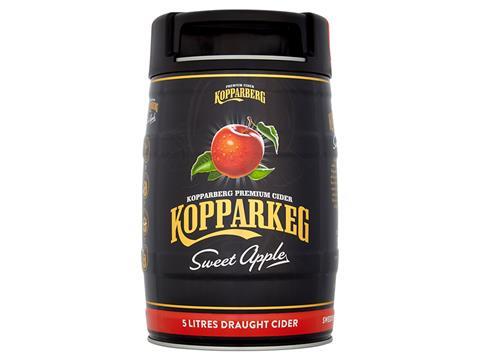 Kopparberg has refreshed its lineup of summer party kegs with a new higher abv Sweet Apple variant.

Sweet Apple, which "balances the taste of sweet apples with a subtle honeyed aroma" is the latest addition to Kopparberg's range of premium fruit cider flavours, having launched in 500ml bottles last November.

Rolling out in the five-litre Kopparkeg format today (4 June), with an abv of 4.5%, it joins the Swedish cider brand's 4% abv Strawberry & Lime and Mixed Fruit Kopparkegs, which returned to supermarket shelves in May.

Kopparberg's limited edition shareable kegs first hit UK supermarkets in summer 2016 and were an instant hit, with the Strawberry & Lime variant almost selling out in the first month on shelves.

"The Kopparkeg launched in 2016 as an innovative and easy way for consumers to enjoy and share our refreshing fruit cider throughout the summer," said Rob Salvesen, senior marketing manager at Kopparberg.

"With the addition of Sweet Apple, we're looking forward to being able to offer even more options for doing just that as the warmer months truly set in".

The Sweet Apple Kopparkeg will be available exclusively to Asda until the end of July, while Strawberry & Lime will be available in Tesco and Asda until August and Mixed Fruit will be available in Morrisons until August (rsp: £18).