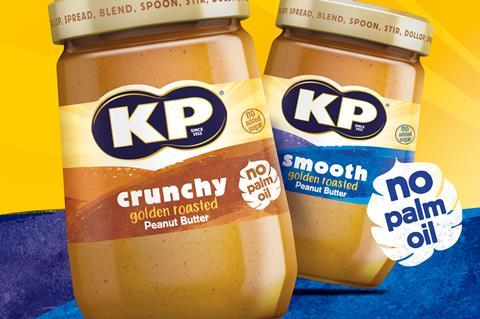 KP Snacks is taking its eponymous peanut brand into peanut butters.
The snacking giant has created a duo of palm oil-free KP peanut butters – crunchy and smooth.
However, unlike other palm oil-free peanut butters on the market, they are stabilised, meaning they do not need to be mixed or stirred before serving.
KP is also playing up their health credentials: the duo are billed as having no added sugar and 35% less salt on average compared to similar peanut butters on the market.
The move makes KP the latest in a series of fmcg heavyweights to launch into peanut butters. The likes of M&M's, Snickers and Kellogg's Crunchy Nut have all unveiled their own peanut butters over past weeks.
Recent growth in the category meant it was "the perfect time for KP to make its mark and help the category thrive and prosper", said KP marketing director Kevin McNair.
Indeed, it comes as sales of peanut butters have gone through the roof over the last year, with the spread overtaking longstanding rival jam over the year ending 25 April 2020 [IRI].
Lockdown compounded this demand: over the 12 weeks to 25 April, sales of peanut butters grew by a whopping 35.5%, with brands attributing this success to peanut butter's health and nutrition credentials [IRI].
KP's peanut butters have rolled into Tesco, with Asda to follow from August 24 (rsp: £3/340g).