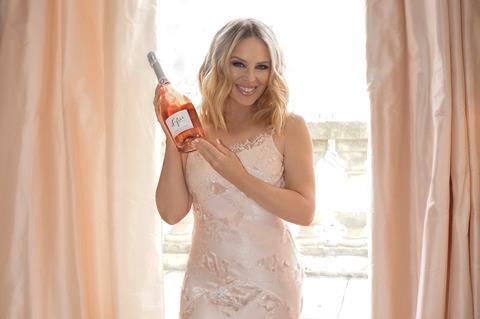 Kylie Minogue is to launch a non-alcoholic wine.
The Australian star, whose wine brand with Benchmark Drinks has taken the supermarkets by storm over the past year, is set to launch a 0% sparkling Rosé into 700 Tesco stores and Booker retail partners, with a further two retailers to follow in January.
The drink is claimed to have an "acidic balance mirroring that found in wine" and is made with a blend of European grapes and green tea from Yunnan in China.
To make it, the tea leaves are plucked and brewed into an infusion, which is then added to grape ferment, resulting in "an additional mouthfeel and finish, rounded off with dried tannins" to make a "complex and finely balanced" tipple, said Benchmark Drinks.
Minogue said it would appeal to "any Sparkling Rosé drinkers looking for a delightfully clean, textured product, minus the alcohol".
Since launching in 2020, the star's wines have won over shoppers in droves: the brand more than quadrupled its value, hitting £18.9m in sales over the year to 30 April 2022 – a 314.9% increase [NielsenIQ].
It's the latest in a series of new non-alcoholic wines to hit the market this year. Big suppliers such as Accolade Wines and McGuigan have unveiled a slew of launches in a bid to make the category more accessible and palatable.
The former has not only rolled out a trio of non-alcoholic Hardys wines but also launched an entirely new non-alcoholic wine brand called &Then.
Upmarket brand Thomson & Scott, meanwhile, recently scored a major retail win with the launch of its entire range - which includes Brut, Sparkling Rosé and Noughty Rouge wines – into Waitrose.