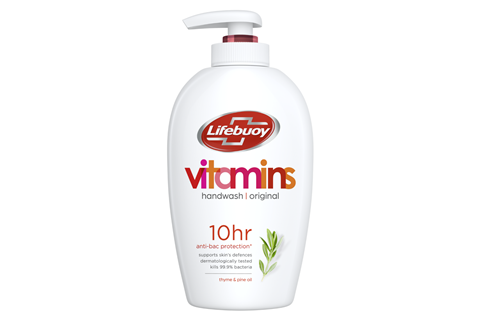 Lifebuoy has reformulated its handwash and sanitiser range to achieve what it claims is "market-leading" antibacterial protection.
Anti-Bacterial Hand Wash now delivered 99.9% antibacterial protection for up to 10 hours, while Anti-Bacterial Hand Sanitiser provided up to six hours' protection, offering "the longest lasting protection available on the market", it claimed.
They also included vitamins B3 and E, which worked to "improve skin health and support the skin's natural defences".
The reformulated products have already rolled into Tesco, Sainsbury's, Asda, Morrisons and Waitrose (rsp: £1-£2.50/50ml-250ml).
They have been rebranded with "modern-looking" packaging, which features the improved claims on-pack.
Lifebuoy UK & Ireland MD Benoit Roger-Machart said shoppers were looking for "increased levels of hygiene in everyday products to help continue the healthy hygiene habits formed during the pandemic".
To support retailers with this demand, Lifebuoy had "created a range that doesn't just deliver 99.9% antibacterial protection, but also gives consumers longer-lasting protection", he said.
The Unilever-owned hygiene brand returned to the UK in spring 2020, after exiting the market in the 1990s.
It expanded into homecare last summer with what it claimed was a "first-to-market" range of dermatologically tested cleaning products, called Botanitech.