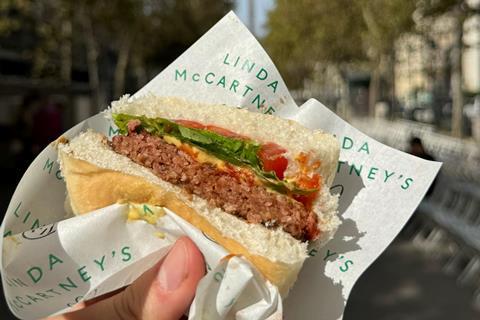 Linda McCartney Foods has announced the launch of a new Linda's Best Burger.
The soya-based burger will hit the shelves of UK supermarkets in spring 2024 with a "mouth-watering, meaty texture".
The brand claimed it had replicated the texture of traditional burgers, making the product satisfying and juicy, by copying the way fat is layered within the protein structure to be similar to premium meats such as wagyu beef.
This layering also ensured the brand could achieve better nutritional values, "because of our unique structure". This meant the burger had lower saturated fat and higher protein compared with its competitors, Linda McCartney's claimed.
Linda's Best Burger is designed to cater to the ever-growing demand for meat alternatives and elevate the standards of taste and nutrition in the category, said the brand.
"We are thrilled to introduce Linda's Best Burger to the UK market," said Rebecca Fairbairn, head of marketing for Linda McCartney Foods. "This burger represents the culmination of our decades-long commitment to creating plant-based options that help change the way the world eats."
The burger made its debut this morning at the launch of Stella McCartney's spring/summer collection at Paris Fashion Week.
"Burgers and fashion shows don't normally go together but the new Linda's Best Burger was a huge hit this morning," said a guest at the event. "Linda's Best Burger looks set to be the must have accessory of the spring/summer 24 season!"