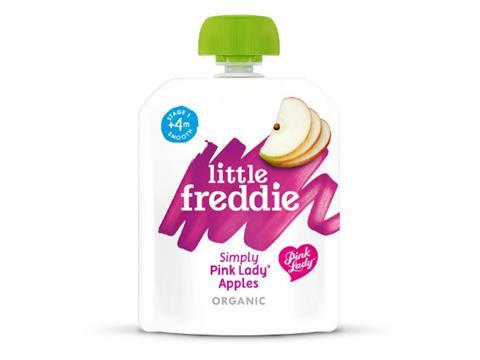 Pink Lady has teamed up with organic baby and toddler food brand Little Freddie to launch the UK's first Pink Lady-branded babyfood product.

The apple brand has struck its first UK babyfood licensing deal with Little Freddie to create a 100% Pink Lady apple purée set to launch in Ocado, Boots and Amazon (rsp: £1.05/70g). Pink Lady is also Little Freddie's first partner brand.

The stage one pouches, designed for children aged four months and older, contain organic Pink Lady apples from a farm in the Bolzano region of northern Italy, on the outskirts of Verona.

Though Little Freddie has an exclusive deal to produce Pink Lady babyfood products, the range contains just one product so far.

The purée was initially slated for launch in this month but is now due to go on sale at the end of summer. Difficulty in sourcing organic variants of the apples caused the launch to be delayed.
"We have been trying to bring a Pink Lady product to market for three years and this is the first year we've been able to do it," said Little Freddie CEO Piers Buck.

"Offering this exceptionally sweet apple underpins the brand's commitment to introducing authentic and interesting flavours to babies at a young age and we would point to the launch with Pink Lady as a prime example of this."

Little Freddie underwent a rebrand ahead of its launch in the UK earlier this year, after starting life in the Hong Kong and Chinese markets. It initially rolled out 10 on-the-go pouches, which are set to be joined in the coming months by 32 further products, including cereals and finger foods.