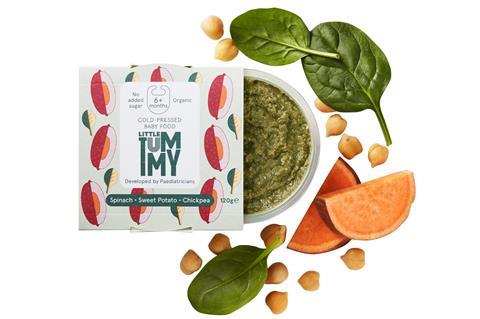 DTC babyfood brand Little Tummy has boosted its range of baby meals with two new dishes.
It has added two new SKUs to the line-up: Nerve Strengthener and Bone Builder (rsp: from £22/9x120g).
Nerve Strenghener is a spinach, sweet potato and chickpea mix, which is billed as containing "plenty of folic acid to get your little one's synapses firing".
Bone Builder, meanwhile, is comprised of millet, apple, yoghurt and cinnamon, the calcium and phosphorus content of which is said to help protect against the risk of osteoporosis in later life.
Little Tummy said it was "disrupting the market by removing the hassle of making homemade babyfood" by offering high pressure-processed "fresh, paediatrician-developed meals".
It added HPP preserved the textures, flavours and nutritional content of the ingredients.
The business was founded by Nadine Hellmann and paediatrician Dr Sophie Niedermaier-Patramani, with recipes developed with the nutritional needs of babies at the forefront.
Its range, now six-strong, also includes Gut Booster, Brain Power, Muscle Fuel and Taste Bud Tantaliser.