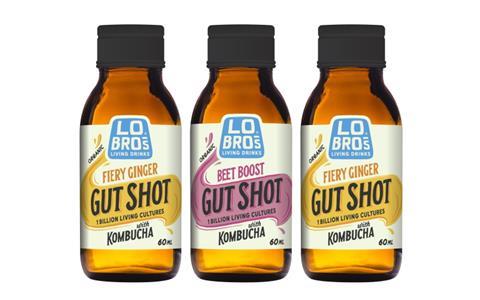 Lo Bros Kombucha is launching into shots and CBD.
The Soulfresh-owned brand has created a duo of 'Gut Shots' – Fiery Ginger and Beet Boost – which are sold in 60ml glass bottles and billed as being "created to help consumers incorporate living cultures into their daily routine" (rsp: £2.25).
They each combined "the benefits of kombucha and good bacteria with organic fruit and vegetable juice to create a living drink containing over a billion living cultures", said the brand, offering a dose of bacillus coagulans, a lactic-acid forming bacteria it said could "help restore the balance of intestinal flora".
A new Blueberry Lemonade CBD Kombucha, meanwhile, has joined its range of standard drinks in 330ml bottles (rsp: £2.75).
The drink contains 15mg of CBD and is billed as "a delicious and refreshing product that can support overall wellbeing of the body and mind".
Soulfresh GM Dom Dalton said the brand wanted to "use our fermentation knowledge and UK brewing capability to develop innovative products that are delicious and meet demand for food and drink that provides a functional benefit for consumers".
The trio has rolled into Sainsbury's.
Lo Bros isn't the only brand looking to cash in on Brits' booming love of kombucha.
The news comes as celebrity chef Hugh Fearnley-Whittingstall told The Grocer last month of his plans to launch a River Cottage-branded quartet of kombuchas.