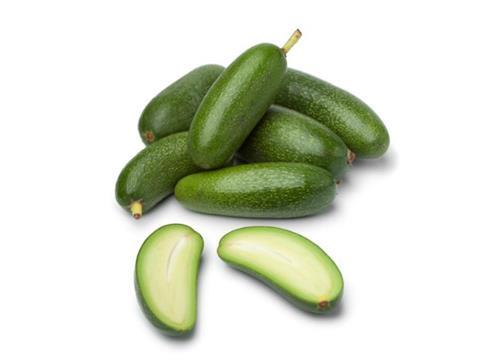 M&S has launched a limited-edition stoneless avocado more commonly seen on Parisian menus.
Marketed as a 'cocktail avocado' (rsp: £2/250g), it is between 5-8cm long and 50g on average – smaller than a regular avocado. Grown in Spain, it is available only in December, when it is usually sold to high-end restaurants in Paris, said M&S.
Unlike conventional avocados, the cocktail variety has edible skin. It is formed from unpollinated blossoms, which prevents formation of the stone and halts growth.
The mini fruit was rich in flavour with a creamy texture, M&S said, while its format made it "ideal" for snacking and lunchboxes.
M&S agronomist Charlotte Curtis recommended customers deep fry cocktail avocados and put them in salads or use as a garnish.
"This has been on our radar for a couple of years and we're excited to have been able to get hold of some for our customers to try," she said.
Curtis called the stoneless variant "the holy grail" of avocados following a year of innovation, which has seen laser labelling and mini avocados debut in grocery.
In August, Tesco introduced mini avocados, also known as zilla eggs, sold in egg-style cartons to protect them from damage and prevent them spoiling.