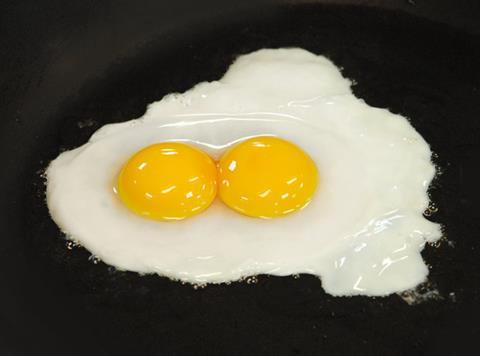 Marks & Spencer has launched a box of guaranteed double yolk eggs after it cracked the method for identifying the phenomenon.
The free range eggs roll out this week on a nationwide basis at £2.75 for a box of six, and are part of a new range of special breed eggs, which also include Araucona Blue and Maran Island brown eggs.
Despite estimates that double yolks were present in less than 0.1% of all eggs [British Egg Industry Council], M&S said using a method called "candling" had allowed it to identify double yolkers on a consistent basis.
This technique sees eggs from hens individually inspected by hand and held in front of a bright light to identify the shadow of the yolks inside the egg shell.
Double yolkers are a natural phenomenon which is normally the result of a young hen's immature reproductive system.
With the yolk containing the "nutritional centre" of an egg, M&S product developer Ali Rodham, said the item was "perfect for people who think the yolk is the best bit of the egg" which were "not only delicious, but healthy too".