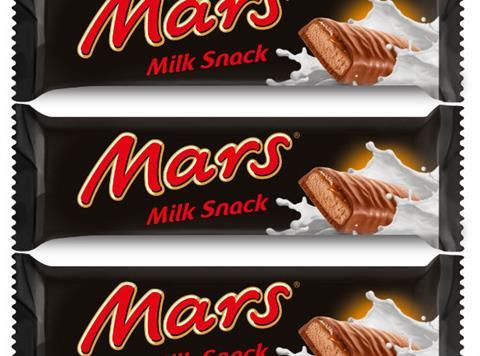 Mars is to expand the chilled dessert options of its core chocolate brand with Mars Milk Snack dessert bar.
Set to roll out on 13 October to about 300 Asda stores, where it will sit "alongside the yoghurts", Milk Snack (rsp: £3/6x35g) is a combination of sponge topped with malted chocolate mousse, finished with a layer of caramel, and encased in milk chocolate meant to make a 'snap' noise when bitten into. It is similar to Kinder's Milch-Schnitte, which is sold in Germany.
Intended to "bring something completely different to fridges", each 100g of the new snack from Mars Chocolate Drinks & Treats contains 484kcals and 16.4g of satfat, making it more indulgent than both an ambient Mars bar (448kcals/8.1g satfat) and a Mars ice cream bar (275kcals/10g satfat).
"We are extremely excited to introduce the iconic Mars brand into the fridge this year as part of the innovative, high-growth chilled snacks category, said Michelle Frost, general manager at Mars Chocolate Drinks & Treats.
Milk Snack was "completely different from other treats in stores" she added.
The launch will be supported by sampling at Asda stores, an influencer campaign, and a coupon redemption scheme.