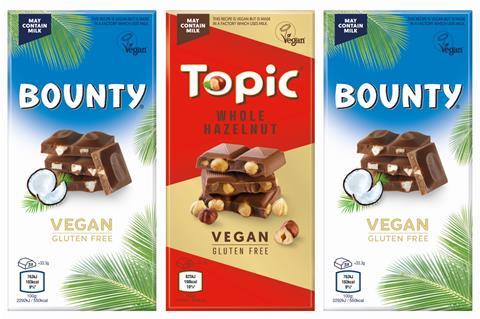 Mars has created vegan versions of its Bounty and Topic brands.
Bounty Vegan is billed as a "delicious combination of rich cocoa and diced coconut, blended with smooth and creamy almond paste", while Topic Vegan "combines hazelnut paste and rich cocoa with whole hazelnuts, creating a delightful nutty experience".
They have rolled into Morrisons in 100g "chunky" bars, with Asda to follow from the end of January (rsp: £3).
Mars first launched into free-from with Galaxy Vegan in 2019, expanding the range with further SKUs in 2020.
Galaxy Vegan "proved incredibly popular and we believe that Topic Vegan and Bounty Vegan will add something excitingly different to the free-from category", said Mars Chocolate Drinks & Treats GM Michelle Frost.
It follows a turmultuous year in the mults for Mars, which suffered supply issues throughout the early months of the year, leading to significant declines for many of its key brands.
December saw it launch a major overhaul for the Galaxy brand, with a new look and a new premium range of Fusions bars rolling out.