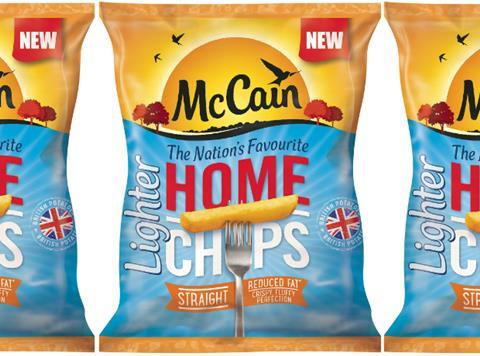 McCain has unveiled a lighter version of its frozen Home Chips, promising 30% less fat than the original, as the brand attempts to claw back £8.7m of lost sales.
The result of more than three years' development, the NPD contains 2.8g of fat per 100g when frozen – compared to the 4.1g of standard straight-cut Home Chips. When oven-baked, however, the lighter chips have 47% less fat: 3.4g per 100g versus the core line's 7.2g.
McCain's reduced fat chips (rsp: £1.95/900g) were a UK first, the brand claimed. They would meet "the growing consumer demand for lighter versions of the nation's traditional favourite products to add to their mid-week dinners, as part of a healthy lifestyle and a balanced diet".
Rolling out now in freezers, Lighter Home Chips was "a testament to our ongoing commitment to producing high-quality and innovative products for people to enjoy in the home" said McCain marketing director Mark Hodge.
The launch comes after the Home Chips range lost 10% in value last year, falling to £78.6m as carb-conscious shoppers switched from potato to other frozen vegetables, while others eschewed branded chips for the discounters' own-label alternatives [Nielsen 52 w/e 8 September 2018].