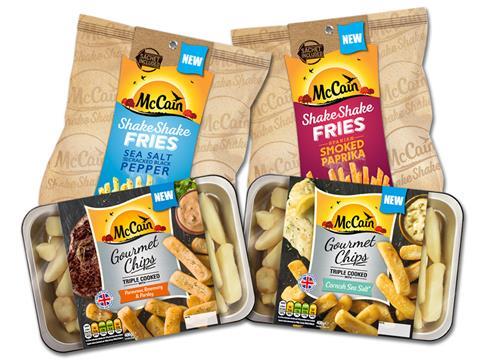 McCain is to make its first foray into chilled with the launch of two first-to-market ranges aimed at small households.

The brand's debut in the category with a selection of potato products - after 59 years in frozen - comes in response to the "lack of consistency and quality" in existing chilled potato options, according to McCain marketing director Mark Hodge. Only 8% of chilled potato lines were chips or fries, he said. "There is massive headroom for growth."

Rolling out on 19 September, first in Asda, the new products are designed to appeal to 'pre-family' and 'post-family' consumers with disposable income, who 'shop for tonight'. "We can't expect them to go down the frozen aisle," Hodge said. "To grow the brand, we need to get it into more homes - and to do that we need to ensure it is as relevant to as many households and meal occasions as possible."

The two new ranges - with rsps from £1.99 to £2.49 - are Shake Shake, made up of two SKUs, and Gourmet, comprising three products. Shake Shake has two variants of fries: Spanish Smoked Paprika and Sea Salt & Cracked Black Pepper. A flavour sachet is added to the bag prior to cooking, and the bag is shaken to coat the fries.

Gourmet is made up of Triple Cooked Chips, with a seasoning sachet of either Cornish Sea Salt or Parmesan, Rosemary & Parsley that is added after cooking. The two variants are joined by Roasts - roast potatoes that have been basted in goose fat. The launch will be backed by a "significant" media spend.