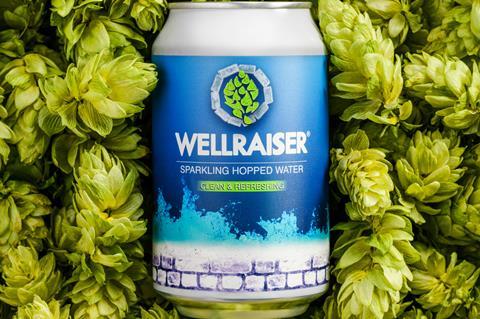 Molson Coors has launched what it claims is the UK's first hopped sparkling water brand - and the brewer's first UK launch outside the beer and cider category.
Called Wellraiser, the drink is billed as an "adult soft drink that gives consumers a different option to a diet soda or water, while also reflecting our story as a local brewer in Burton". It has rolled into Ocado (rsp: £1.29/330ml).
It is billed as having "a zingy, hoppy taste" and being "naturally refreshing", and is made by Molson Coors' brewer by combining natural hop extract with carbonated water.
"In Burton we're privileged to be rooted in a town famous for its wells and water and we saw an opportunity to combine our Burton heritage, and passion for hops, to create something new," said Molson Coors UK marketing director Jim Shearer.
"We're a brewer and cidermaker first and foremost, but our portfolio strategy is about making sure we respond to changing tastes and give adults a drink option for a broad range of occasions. Wellraiser is another step in that strategy, which you can see reflected in our global portfolio with Clearly Kombucha, for example, in the US."
Launching into Ocado gave the brewer "the opportunity to closely monitor the response to the product" ahead of a potential wider launch in future, said the brand.
Molson Coors isn't the only booze company experimenting with sparkling water. Kopparberg, for instance, launched an alcoholic sparkling 'spritz' brand called Balanz earlier this year.
Last month the brewer snapped up ailing craft brewer Hop Stuff in a pre-pack deal, saving the brand from liquidation.