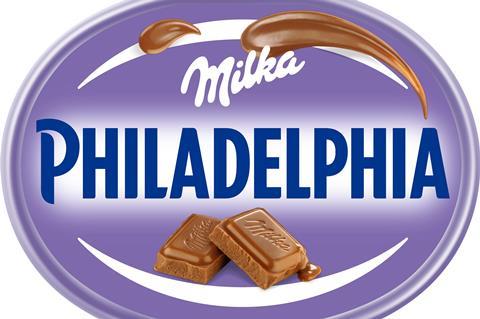 Mondelez is giving 'choccy Philly' another crack, with the launch of a new cream cheese product mixed with Milka.
Philadelphia had launched a similar product back in 2012 – while it was still owned by Kraft – partnering with Cadbury for a chocolate and cheese combo that divided opinions on online forums. The brand discontinued the product three years later, in late 2015, citing a desire to focus on its savoury portfolio.
Launching the Milka product, Philadelphia senior brand manager Paola Cassinelli said there was significant growth opportunity in the low-calorie adult snacking category. It rolled into Asda earlier this month at rsp: £1.64/150g, as a "savoury snack with a sweet treat" containing 85 calories per 30g serving.
Philadelphia with Milka has come to the UK after enjoying success on the continent, where it is often served cold, spread on crackers, biscuits or bread, said the brand.
"Cheese and chocolate are two of the top five types of snacks consumed in the UK, meaning there is a great opportunity for the two brands to come together," said Cassinelli.
"Philadelphia with Milka is perfectly positioned to maximise this, creating a unique and guilt-free afternoon treat for shoppers with a delicious chocolatey taste. This sweeter addition to our range offers shoppers a unique sweet treat at under 100 calories."