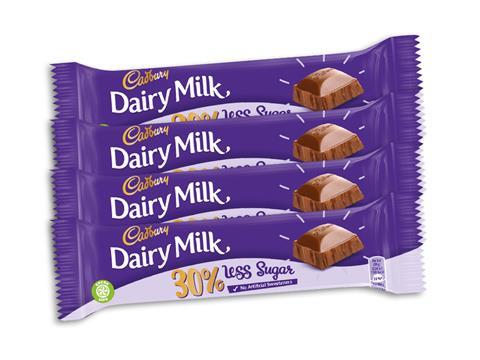 A Cadbury Dairy Milk bar with 30% less sugar will be released next year in a bid to tackle the nation's rising obesity levels (and stop the government introducing a sugar levy on confectionery).

Cadbury first went public with its intention to launch such a bar 11 years ago. The reduced sugar variant will sit alongside standard Cadbury Dairy Milk.

Mondelez did not reveal how it achieved the sugar reduction, but said the team of 20 scientists, nutritionists and chocolatiers had "harnessed their leading understanding of flavour technologies and material sciences" to ensure the new variant still had that "much-loved Cadbury Dairy Milk taste".

"The team has successfully replaced the physical functionality of the sugar in solid chocolate in a way that not only preserves the structure of chocolate but also stays true to the unique texture and taste profile of Cadbury Dairy Milk," said Mondelez.

The 30% less sugar bar contains no artificial sweeteners, colours or preservatives, and involved no increase in calories.

Glenn Caton, president of Mondelez International Northern Europe, said Cadbury's determination not to "reduce sugar at the expense of increasing calories" was behind its decision to include extra fibre rather than more milk. "Full fat milk has double the calories of sugar per gram so by trying to fix one thing you can end up causing a much bigger issue".

The price has not yet been set but Mondelez suggested it wouldn't be far from standard bars. "There are two things consumers won't compromise on: taste and value," Caton added.

If successful, the 30% less sugar chocolate will be rolled out to other Dairy Milk variants but Caton stressed the "iconic" original Dairy Milk bar would not be phased out.

Caton added: "Taking sugar out of our products isn't easy and will take time.

Ultimately they are treats and people expect them to taste great, but we're working hard to find innovative solutions that provide more choice without compromising on their world-renowned taste and quality."

The innovation comes hot on the heels of the launch of Nestlé's Wowsomes in March, which used technology to render sugar crystals 'hollow' and thereby reduce overall sugar content.

Sugar reduction has been a key focus for Mondelez in light of last year's government guidelines, which have advised confectionery companies to reduce their sugar content by 20% by 2020.

Mondelez has launched a number of new products that aim to cater for the more sugar-conscious consumer. This week, it unveiled an added protein Boost bar and next month will see the launch of new Green & Black's singles bars targeting consumers looking for smaller portions.