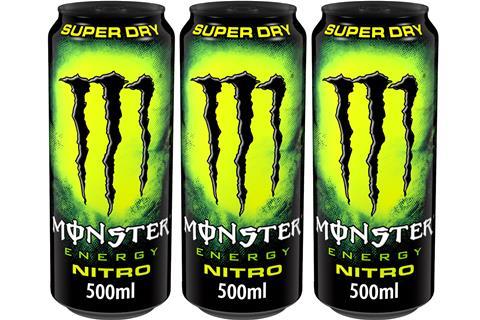 Coca-Cola European Partners has added a new 'Nitro' energy drink to its Monster brand.
The drink is said to be enhanced with nitrous oxide and carbon dioxide to create a "uniquely light, dry carbonated texture".
It contains 32g of caffeine per 100ml, and has a "satisfying citrus taste", said CCEP.
It's the latest in a flurry of NPD from the brand since January, joining Monster Mule, Monster Ultra Fiesta and Monster Juiced Monarch on shelves.
CCEP commercial development associate director Gemma Nicholas said the brand must "continue to innovate, to secure [shoppers'] long-term loyalty and maintain engagement". "With the launch of Monster Nitro, we're giving our fans something they've never had before."
The launch comes on the back of a strong year for Monster. The brand grew its value by just under a quarter (24.3%) to £320m in 2020 – a £62.6m gain [Nielsen 52 w/e 26 December 2020].
Euros campaign
It comes as Coca-Cola has kicked off a major promo campaign for the coming UEFA European Championships.
It will roll out two new on-pack promotions to run throughout the tournament from 25 May.
The first will see shoppers able to scan QR codes on 500ml PET bottles of Coca-Cola and Coca-Cola Zero Sugar, as well as 250ml cans of Coca-Cola Energy and Coca-Cola Energy Cherry for a chance to win a selection of prizes.
Prizes will include the likes of Hisense televisions, Just Eat vouchers, PS4 access codes, and Coca-Cola 'fan kits' with sunglasses and scarves.
From 1 June, meanwhile, shoppers who buy multipacks of Coca-Cola and Coca-Cola Zero Sugar will have a chance to win limited-edition branded footballs.
Every time a ball is claimed, Coca-Cola will donate another ball to a local community thanks to a tie-up with football charity StreetGames.