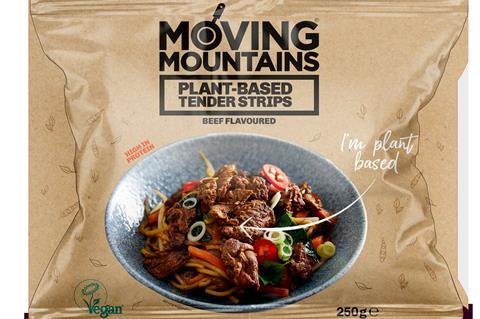 Moving Mountains has unveiled a range of frozen beef-style plant-based Tender Strips.
The strips, which are made from ingredients such as pea protein, wheat and soy, are claimed to have "an incredible depth of flavour and texture" and offer a "meatier" taste than competitors.
"We have perfected the recipe with a team of scientists, chefs and technological innovations, and it is the closest replication to beef available on the market," said the brand's founder Simeon Van der Molen.
"The product provides a real solution to the environmental impact of the animal agriculture industry, without compromising on taste for vegans, vegetarians and meat eaters."
The strips were designed as "a direct swap for beef" and would be best used in dishes such as stir fries, curries, burritos and stews, said the brand. They contain no cholestoral and offer 27g of protein per 100g.
They have rolled into Sainsbury's (rsp: £4.50/250g).
It's the latest in a series of range expansions from Moving Mountains, which in December debuted in fish alternatives with a range of plant-based fingers utilising a new white soy never before seen on the market.