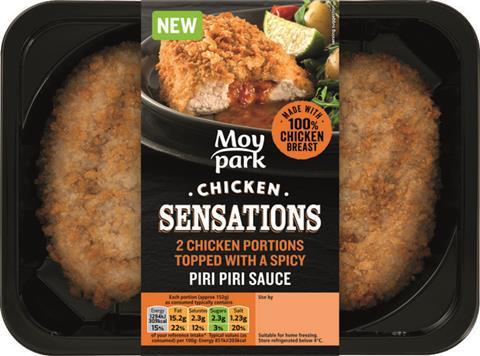 Poultry supplier Moy Park has launched a chilled, breaded chicken range described as a "new twist" on the chicken kiev.
Chicken Sensations goes on sale in Morrisons stores nationally from the end of the month, and consists of a breaded chicken breast with a choice of garlic and herb, cheese and bacon, piri piri or tomato and basil fillings (rsp: £2.49).
The range was developed in response to consumer demand for innovative products that offered a "new alternative for meal time occasions", said Moy Park brand manager Briege Finnegan.
"We aim to inspire our consumers with exciting, new products across all of our categories," she added. "The Chicken Sensations range launches under the Moy Park brand and was developed to offer consumers a convenient, innovative option in the chilled breaded category."
Moy Park saw third quarter sales slip by 1% (£3.4m) to £350.7m for the 13 weeks to 26 September due to foreign exchange movements, the impact of bird flu outbreaks, commodity price deflation and lower international sales.
Despite good volume growth, EBITDA also fell by 12.7% to £12.3m, while pre-tax profits slipped by 94.6% to £200,000. But on an underlying basis - before corporate charges from the parent company, exceptional items and interest on the bond Moy Park issued during the second quarter - EBITDA grew 1.9% to £26.8m and pre-tax profits were up 11.8% to £10.4m.
A $1.5bn (£988m) deal by owners Marfrig to sell the Northern Ireland-based business to Brazilian meat giant JBS, was completed in September 2015.