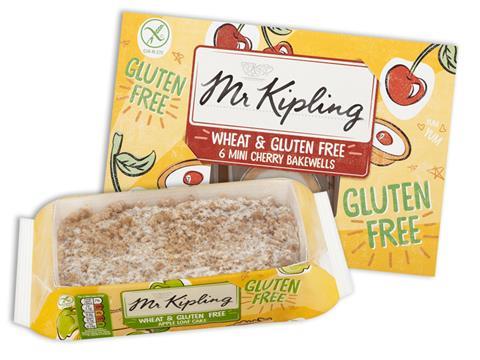 Premier Foods is taking Mr Kipling into the free-from aisle for the first time with wheat and gluten-free cakes and tarts.
Rolling out now to Tesco, the NPD marks another first by adding loaf cakes to the 50-year-old brand's portfolio. Designed to serve eight people, Apple (240g), Cherry Bakewell (265g) and Lemon & Ginger (260g) loaves (rsp: £3) are joined on shelf by Mini Cherry Bakewells (rsp: £2.50/6x30g).
The products had been added to a free-from category set to reach £673m by 2020, said Premier brand director Jo Agnew. The market was driven "not only by the 5% of UK adults who have a sensitivity to gluten, but also those who are cutting down as part of a lifestyle choice", she added.