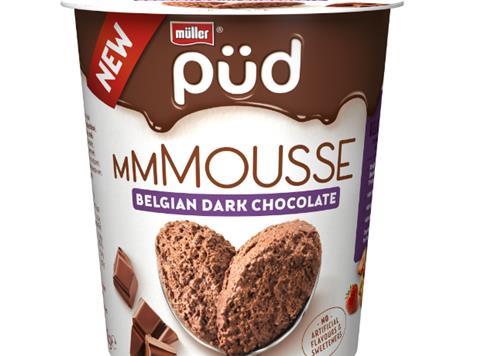 Müller has expanded its desserts-focused sub-brand Püd, with the launch of mmMousse, its first ever branded shareable dessert for the UK market.
The new product went on sale in Asda at the start of April in Belgian chocolate, Belgian dark chocolate and Belgian white chocolate flavours (rsp: £1.60/200g). It is due to be sold on a more widespread basis from next month.
The mousse range follows the launch of the Püd sub-brand in March 2015 with Püd Corner. It is manufactured in Belgium and is based on a similar lineup of mousse products sold by Netherlands-based sister brand Almhof.
Müller chief marketing officer Michael Inpong said the new range was part of the brand's continuing push into big pots after it returned to the category last November with the launch of a 500g Müllerlight Greek-style yoghurt range.
The supplier has identified big pots as one of the main drivers to achieving £700m of category growth by 2020.
"We recognise that everyone has different eating habits, and by having a desserts range in a big pot, it gives consumers the choice of enjoying our products in the way that they want to - whether that be with fresh fruit, cereal, granola, or simply sharing straight out of the tub," Inpong said.
However, despite a commitment by the brand to reduce sugar levels across its portfolio, the mousse range contained "slightly higher" sugar levels than Müller's other desserts.
"We're committed to reducing sugar across our portfolio, but it's also really important to offer consumers a wide range of choice," Inpong added. "There's clearly a market for products like Müller Püd mmMousse, it's a segment of the market with real potential for growth."
The dark chocolate variant has 18.9g of sugar per 100g, while the Belgian chocolate flavour has 22.3g, and the white chocolate 23.8g. However, Müller emphasised the products were a shareable dessert and not a single-serve pot.
While the range represented Müller's first branded mousse product in the UK, the dairy giant has produced desserts for own-label customers in the for many years. It also produces desserts under license from Cadbury's at its Minsterley plant in Shropshire.