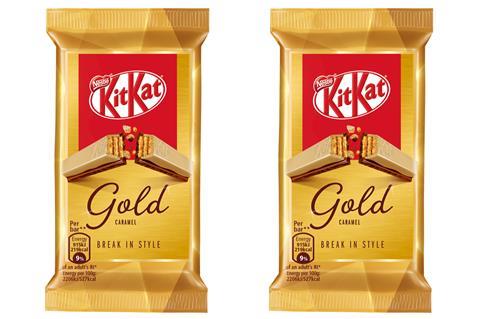 Nestlé is to launch popular Kit Kat Gold in the UK following success down under.
The four-finger Kit Kat is made up of the brand's trademark crispy wafer on a milk chocolate base, topped with white chocolate flavoured with "sweet caramel notes".
Kit Kat Gold originally launched on a limited-edition basis in Australia in 2018, but was made permanent soon after.
It will hit Co-op and Nisa from 3 February, before landing in most major retailers from 31 March (rsp: 85p/45g).
The rollout to the UK is the latest in a series of Kit Kat innovations, including Green Tea Matcha and Ruby bars in 2019 and 2018 respectively.
Nestlé marketing director Alex Gonella said he was "certain that Kit Kat Gold was going to be just as big a hit" in the UK as in Australia. The launch was "just one of the exciting plans we have for Kit Kat, and our confectionery portfolio in general" in 2020, he added.
The Swiss supplier is gearing up to launch its first UK direct-to-consumer offer for confectionery, Kit Kat Chocolatory. The online channel will allow consumers to design their own premium, eight-finger Kit Kat, choosing one of four types of chocolate and three of 14 ingredients. They will also be able to personalise the packaging before it is handmade and delivered.