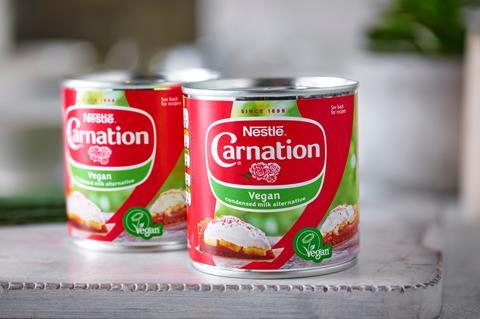 Nestlé is to launch a vegan Carnation condensed milk.
The NPD is made from a blend of oat and rice flour, and is billed as being suitable for use in home baking, adding "an extra fudgy flavour and texture to banoffee pie, fudge, brownies and cheesecake".
It will roll into Ocado from September, followed by Tesco and Morrisons in October (rsp: £2.19/370g). A 397g tin of standard Carnation cost £1.70 at the time of writing.
The innovation had been in development for 18 months, said Nestlé marketing lead for dairy brands UK Vittoria Simms. "It has been a challenge for vegans to find suitable alternatives to make dairy or caramel-based sweets treats or desserts, without having to compromise on taste, texture or appearance."
It comes as the fmcg giant this week kicked off a £1m partnership with social enterprises Community Shop and FoodCloud, with an eye to providing meals to vulnerable families across the UK.
The funding would "be used to improve access to food that specifically meets the nutritional needs of families and children", said Nestlé.