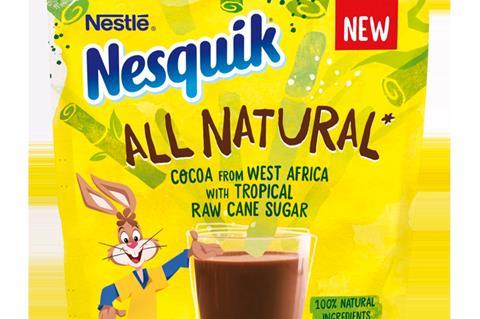 Nestlé has unveiled Nesquik All Natural – an instant chocolate milk drink with a simplified formulation and recyclable paper packaging.
The NPD comprises five natural ingredients: raw cane sugar, cocoa, soy lecithin, natural vanilla flavour and cinnamon. With 62.5g of sugar per 100g, it is 24% less sugary than Nesquik's regular chocolate variant (which has eight ingredients). All Natural also has more cocoa, giving it "a richer cocoa taste".
Made in Szerencs, Hungary, the new drink is packed in a pouch made from coated paper that is sustainably sourced and easily recycled. It had been extensively tested to ensure it kept its contents "in perfect condition during transport and storage" Nestlé said.
The launch of All Natural comes less than two months after the Swiss supplier's commitment to accelerate action in tackling plastic waste.
"The recyclable paper pouch is the first of its kind, one of our key initiatives towards providing more sustainable packaging across our product portfolio," said Yasser Abdulmalak, Nestlé head of dairy for Europe, Middle East and North Africa.
Creating the new pouch was "a big challenge, but an important step in designing the food packaging of the future" he added. "We have taken that step today to ensure we truly meet consumers' demand for more natural and sustainable food."
Nestlé will roll out All Natural to France, Germany, Italy, Portugal and Spain "in the coming weeks" – and then to other European markets "in the near future".
Plans for further Nesquik All Natural products, including a zero sugar variant, were "well underway" and would be launched "within the year", the company added.