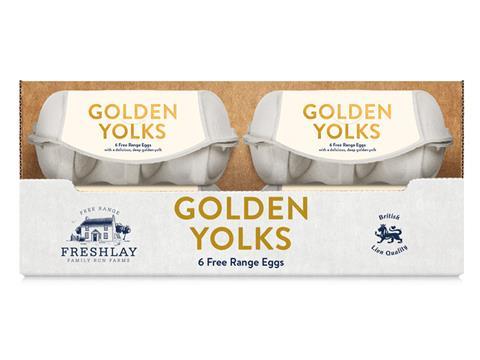 Noble Foods has revived defunct egg brand name Freshlay, promising consumers eggs with a "deep golden" yolk.
The brand had been inactive since Noble, then Deans Foods, acquired it from WJ Watkin & Son in 2003. But the new-look Freshlay brand was similar to its predecessor in name only, Noble stressed.
Freshlay guarantees a darker golden yolk by feeding its hens an enriched diet featuring colour-enhancing paprika and marigold. The launch of the brand came in response to consumer research which found consumers viewed the colour of the yolk as an indicator of quality, said category and marketing director Stuart Agnew.
"We believe we are the first company to achieve the dark golden colour through natural additions to our hens' diets," added Agnew.
"The pack design has deliberately been kept restrained and simple, focusing on the golden yolks that lie within. We have been able to create a premium product without a hefty price tag that is normally associated with a speciality product, therefore bringing a quality golden yolk experience to the masses."
The free-range brand is initially set to source its eggs from three family-run farms, in a further bid to deliver the "simplicity, care and small scale" produce consumers demand, he said. It has gained listings in the Co-op from next week (rsp: £1.75/six-pack).
"These farms are some of our most experienced farmers, who always go the extra mile for their hens and have worked closely with us in the development of this special feed," said Graham Atkinson, Noble Foods agriculture director.
It comes less than a year after egg giant Noble launched organic brand Purely Organic, which went on to gain listings in Tesco in September last year.