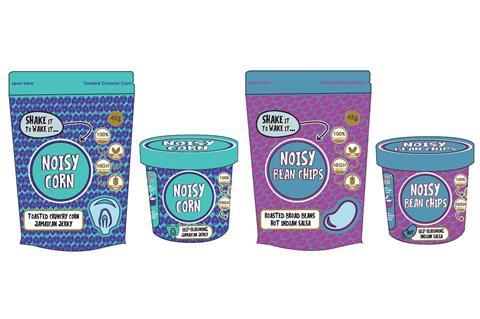 Noisy Nuts is to unleash a swathe of NPD over coming months, completely re-imagining its portfolio, The Grocer can reveal.
The brand - whose founder Noel Allen was named one of The Grocer's Top New Talent winners in 2018 - will launch Noisy Corn and Noisy Bean Chips at the end of November, with Noisy Chickpeas to follow in 2020.
It will also launch its snacks into a range of new formats, including 45g fridge packs and 100g pouch packs.
Allen said he wanted the brand to be able to provide a wider "snacking solution" including healthier treats.
"We did a lot of research looking at trends and future thinking, and what's going on with different markets and packaging, and how we could progress with our own brand," he said.
"We did a lot of shows to build up our D2C research through Pub in the Park and foodie shows, and then started developing this range and progressing the brand.
"We don't see ourselves as a health brand but a healthier brand - our customers are saying they're aware of health and would rather have great tasting snacks that are healthier, without having to worry about every little detail."
Earlier this year Noisy partnered with grower and importer Greenyard Fresh, with Greenyard agreeing to support the fledgling brand in developing and bringing NPD to market, as well as distribution.