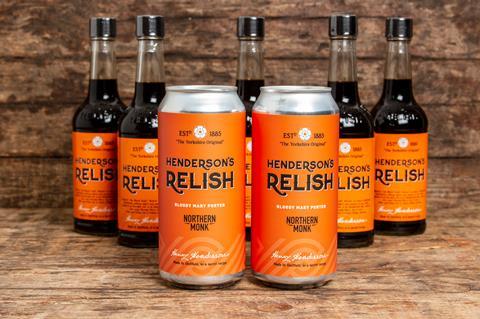 Leeds-based craft brewery Northern Monk has teamed up with Henderson's Relish for a one-off Bloody Mary stout.
Northern Monk first publicised the beer on social media on 1 April, masquerading as an April Fool's gag. Yet it announced days later this was a double bluff as Northern Monk had been secretly creating the beer with the relish brand for a limited run.
The brew itself is a 5% abv porter "inspired by the savoury cocktail" with "subtle spice", said Northern Monk, and is made with Henderson's, cayenne pepper, ancho chilli and Szechuan pepper.
Henderson's was "without a doubt one of Yorkshire's most-loved brands," said Northern Monk founder Russell Bisset. "It's a true northern institution. The way this product has united the Sheffield community is an inspiration.
"Like us they came from humble beginnings, but through hard work, a consistent product, and clear focus on their local area, they've built a legacy."
The beer is available through Northern Monk online (rsp: £4.30/440ml).
This isn't the first time Northern Monk has linked with a condiments brand. It previously partnered with Manchester vegan street food brand Los Antojitos for a limited run of scotch bonnet hot sauce infused with its Heathen IPA.