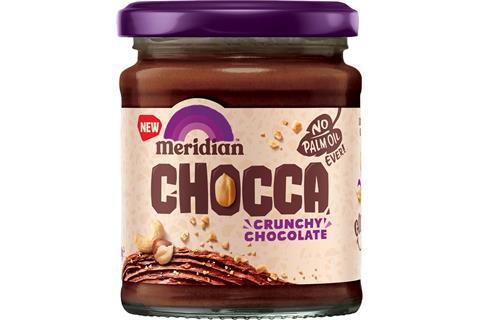 Nut butter pioneer Meridian is hoping to go head to head with Nutella with the launch of its own chocolate spread.
The brand has unveiled Meridian Chocca, a palm oil-free chocolate spread claimed to contain 54% nuts, which it said was "significantly more" than competitors.
The NPD contains a blend of peanut, hazelnut and cashew butters, is suitable for vegans and contains no added salt (rsp: £3.30/240g). It will roll into Waitrose, Sainsbury's, Ocado and Morrisons.
Meridian said the crunchy texture of the spread would "bring an exciting new aspect to a category which is currently dominated by smooth variants".
"In comparison to the peanut butter category – which is broadly evenly split between smooth and crunchy – household penetration of chocolate spreads is substantially lower as sales are confined to smooth offerings only," it added.
By doing this the launch could "prove pivotal for chocolate spreads: it will create a step-change in usage and generate incremental category sales", said Meridian commercial director Mark Ackland-Snow.
"In 2022, consumers couldn't imagine there being no such thing as crunchy peanut butter. In three years' time, they're going to share that same sentiment about crunchy chocolate spread."
Meridian certainly isn't the only brand hoping to challenge Nutella for chocolate spread dominance. Last year saw Rowse, the UK's biggest honey brand, launch its own chocolate spread called Chocobee, which blended its honey with sustainable cocoa.