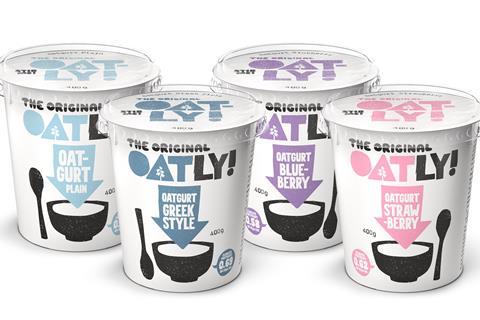 Oatly is entering the yoghurt category in the UK with a four-strong range of 'Oatgurt'.
The oat-based yoghurt alternative will roll out in four flavours – Plain, Strawberry, Blueberry and Greek Style – at Tesco this month (rsp: £1.99 - £2.20/400g).
Oatgurt tasted "just like normal yoghurt", with a "similarly creamy consistency", said Oatly.
The products contain calcium, iodine, vitamin B12 and vitamin D, and both the Plain and Greek Style variants have no added sugar.
The range comes in sustainable pots made from up to 70% renewable sources, as part of Oatly's goal to make its packaging portfolio from as close to 100% renewable materials as possible.
Oatly has also launched a chilled Organic Oat Drink, which will hit Tesco from 6 July and Sainsbury's from 8 July (rsp: £1.99/one litre).