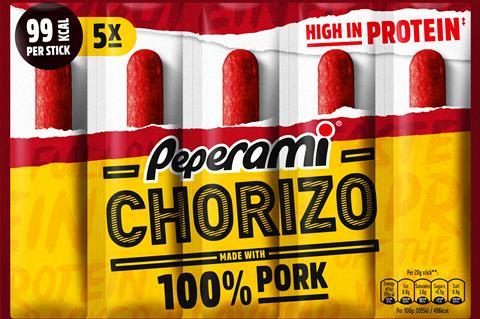 Peperami is back to ploughing a meaty furrow with a move into chorizo.
After making a high-profile debut in the plant-based category with its Vegerami bites in June 2021, the meat snack staple has now gone back to pork with a new Spanish-style sausage.
The NPD is cured for a number of days, "providing a depth of flavour and delicious taste", said the brand, and makes use of classic chorizo ingredients such as paprika, garlic and herbs.
The launch aimed "to recruit more adults into the meat snacking category", said the brand.
The snacks hit Tesco this week in packs of five, with a single stick format to follow at a later date, it said.
It was "packed with protein and unpasteurised to maintain its fuller flavour", added Peperami.
They have a shelf life of more than six months and provide 99 calories per portion.
The launch comes on the back of a stellar year in the supermarkets for Peperami.
The brand grew its value sales by one fifth over the 52 weeks to 11 September, hitting a total of £99.1m – a £16.5m gain, on volumes up 21.2% [NielsenIQ].