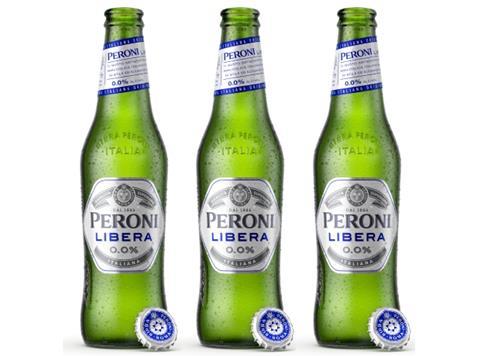 Peroni will make its debut in the alcohol-free aisles next month.
Peroni Libera, the new 0.0% version of the posh Italian lager first revealed to be in development by The Grocer in October, will hit Tesco from January (rsp: £5/4x330ml).
The beer itself had been "brewed with specifically cultivated ingredients and the extraordinary Peroni craftsmanship, passion and flair", said the brand.
"A 'special decoction' process has been used as well as a customized fermentation process allowing the liquid to attain a fast ending 0.0% alcohol beer. A dedicated yeast strain has also been used to produce rich and intense citrus aromas and hoppy notes, which are then followed by delicate fruity aromas, offering a similar crisp and fresh taste experience as Peroni Nastro Azzurro."
It was "the perfect alcohol-free beer option for the lower-tempo occasions", said Peroni master of mixology Simone Caporale, such as a mid-week night out with friends or a working lunch.
The Peroni masterbrand was given its first makeover since 2005 this summer, with Asahi rolling out new engraved bottles and a slight reimagining of the brand's logo.
Sales across the Peroni brand grew a cool £12m (10.6%) to £138.4m over the last year, on volumes up 9.1% [Nielsen 52 w/e 8 September 2018].