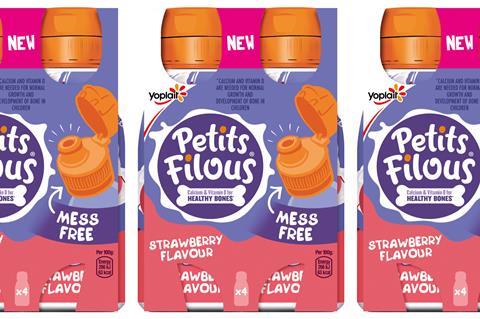 Yoplait's Petits Filous has launched a new drinkable yoghurt format with a "mess-free" sports cap.

The General Mills brand said the new range represented the first time a sports cap had been used on children's yoghurt in the UK, and opened up new usage occasions for the category.

The bottles went on sale in Asda and Morrisons this week (rsp: £2/4x100ml) in strawberry and banana flavours and could last up to eight hours outside the fridge, said Yoplait senior brand manager Elisa Costa.

"Sometimes transporting yoghurt pots while on the go isn't practical," she added. "The new portable format means children can enjoy the great taste and all the goodness of Petits Filous wherever they are."

The range's launch will be supported by a TV ad campaign in August alongside digital advertising and a raft of in-store marketing activity, including toby boards and barkers, in-store radio and car park banners.