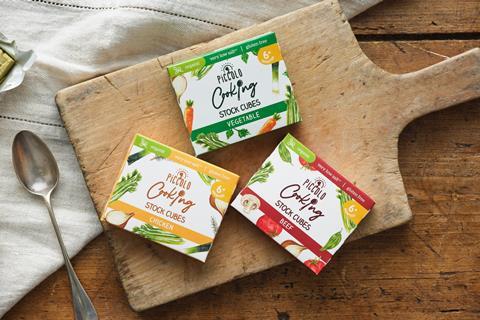 Babyfood startup Piccolo has unveiled a raft of NPD featuring two lineups of ingredients for home-cooked meals.
The organic brand today (20 May) began rollout of 13 SKUs, including Stir-In Sauce that counts as one of a baby's five a day. Created for seven months plus, Tomato, Beef Bolognese, and Pumpkin & Cheese (rsp: £1.25/80g) are joined on shelf by a three-strong Stock Cubes range suitable for six months and older: Chicken, Vegetable and Beef (rsp: £1.50/6x8g).
The sauce and stock had been created "in response to Piccolo customer research, which revealed while 85% of parents cook at home for their baby, 73% are confused about what foods they should feed them" said the brand.
It has also added Mighty Breadsticks (rsp: 85p/20g) to its selection of snacks, with Tomato & Basil and Apple & Cinnamon meant for babies aged 12 months plus. They arrive as Piccolo has revamped its Squares lineup of wafers for 10 months and up. It now comprises Mango, Banana & Blueberry and Sweet Pea (rsp: 85p/20g) in a smaller pack.
Finally, the babyfood brand has expanded its range of pouch meals with Three Vegetable Mac & Cheese with a Hint of Sage; Beef Spaghetti Bolognese with Extra Virgin Olive Oil; and Green Vegetable Three Grain Risotto with Cheese (rsp: £2.30/80g). They are suitable for 10 months and older.
Piccolo was "always looking at new ways to innovate and help families enjoy nutritious meals and snacks without the worry or hassle" said founder Cat Gazzoli. "After starting out as six products in Waitrose back in 2016, our range has grown to over 40 products across all the big UK grocers. The Piccolo family has continued to listen to our customers and innovate to meet the needs of their growing families."
The NPD introduces a new look for the brand's portfolio. It had been designed to "communicate our key messages around product, ingredients, nutritionals, brand ethos and provenance" Gazzoli added.
The ingredients, dietary information and nutritionals are clearer, and the packs also feature a QR code linked to the Piccolo website, allowing parents to "find out exactly where those delicious, organic ingredients come from".