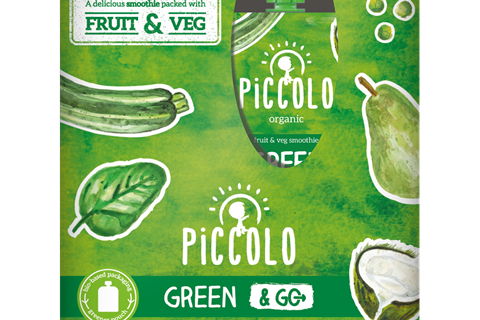 Piccolo has launched the UK's first bio-based babyfood pouches.
The new pouches are the result of five years of research and development by the babyfood company and its packaging partner, Gualapack.
They have rolled out across its Piccolo Pure and multipack ranges.
Each pouch contains up to 80% of bio-sourced raw materials from renewable sources, such as sugar beet and cane.
Piccolo said it planned to create a 100% recyclable pouch that was "currently under research". It called the new packs "the first step in the journey towards a fully sustainable solution".
The move "taps into something we know consumers are becoming increasingly passionate about - moving towards a more sustainable future for our planet, which their children will be able to enjoy", said Piccolo founder Cat Gazzoli.
Piccolo said it would swallow the related cost increases in making its packs eco-friendlier, despite the fact that doing so has long been considered prohibitively expensive.
"We cannot deny that the cost of packaging is higher," said the brand.
"Piccolo decided to absorb this additional cost so consumers will not see any price increase in our products after the introduction of the bio-based pouches.
"We are interested in the better good - so we encourage other companies to adopt this technology, as a wider adoption will ultimately abate the costs and make bioplastic fully viable."
The bioplastic used "complies with the same safety regulation of petroleum-based plastic and is 100% safe to be used in our pouches", it said, adding it was currently used in both adult and babyfood in other European countries.
"We are convinced this investment will bring awesome return for the future of the planet."