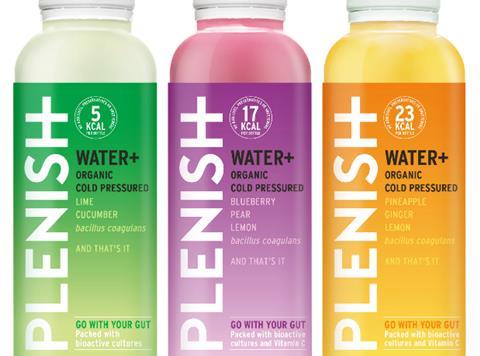 Drinks brand Plenish has launched an organic probiotic line, which it claims is a European first outside the dairy category.

The NPD, Plenish Water+ (rsp: £2.29/330ml), is a combination of cold-pressed juice, water and one billion bio-cultures known as bacillus coagulans – which aid digestion, according to the brand.

Available now at Waitrose, the line-up comprises Lime Cucumber, Pineapple Ginger and Blueberry Pear variants, with calorie content per serving ranging from five to 23.

Plenish Water+ is the brand's first new product since launching its organic almond milk in December.

"Traditionally probiotic drinks have always been in a dairy or milk format; now Plenish Water+ can be consumed by all," said founder Kara Rosen. "The new range of healthy on-the-go drinks targets health-seekers looking for delicious drinks with added benefits," she added.