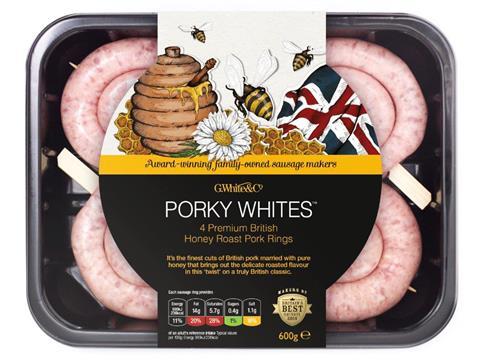 Sausage brand Porky Whites will launch three new lines in Asda next month.
Honey Roast Ring (British pork with honey), Porky Flats (round flat pork sausages seasoned with cracked black pepper) and pork meatballs with a Mediterranean-style seasoning, will go on sale from 12 September.
Prices have not yet been finalised, but MD Chris Price told The Grocer they be would be in line with the rest of the brand's products, which have an rsp of £2.50.
"The Porky Whites brand is well known in Asda and these three new lines are about keeping our range fresh, current and innovative so we can offer the best products to our customers," Price said.
Porky Whites also plans to launch a low-fat pork sausage in the new year.
Containing just 3% fat and 1.2% salt, Porky Lights will be sold in a 400g pack and targeted at those seeking high-protein, low-fat food.
"We do weekly sampling in Asda and Tesco and it was becoming common for people to ask whether we do low-fat versions," Price added. "I think it [Porky Lights] will be beneficial to our range. We're hopefully going to launch in January and we're currently in talks with Asda."