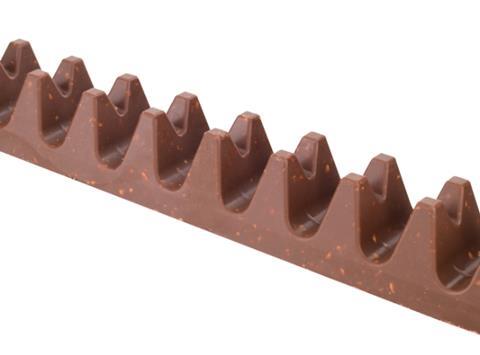 Poundland will redesign its Twin Peaks chocolate bar, following a three-month trademark dispute with Toblerone owner Mondelez.
The bargain store delayed the July launch of its Toblerone-like product after receiving a legal letter from Mondelez concerning the chocolate's shape and appearance. Unveiled a month earlier, the copycat confectionery was inspired by the top of Wrekin Hill in Shropshire, Poundland said. Each of the 'mountains' has a double peak, while the chocolate-and-nougat bar weighs 180g – 30g more than the Toblerone of nearest equivalent size.
As part of the legal settlement with Mondelez, Poundland will be allowed to sell the 500,000 Twin Peaks bars already in production as long as they sport "distinctive packaging" that differs from Toblerone's design. The value retailer would then relaunch Twin Peaks in the new year "with a modified shape that still offers customers 180g of British-made chocolate inspired by the Wrekin and Ercall hills in Shropshire", it said.
"Following positive discussions, we can confirm Poundland and Mondelez have come to an agreement that allows both businesses to put their Twin Peaks dispute behind them."
Mondelez welcomed the end of the trademark wrangle, saying: "Poundland is an important and valued customer of Mondelez, so we are glad that we have reached a solution for their Twin Peaks bar."