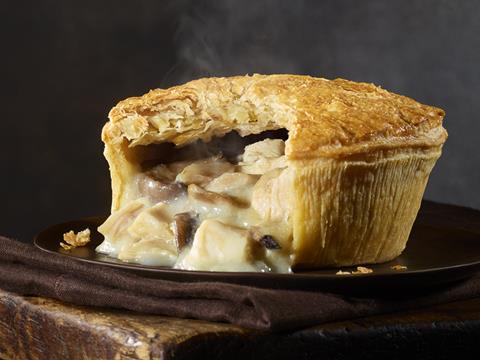 Pukka Pies is launching a posher grocery range intended to bridge the "big gap" between the brands' core lineup and its premium rivals.
Set to land on shelves from 9 September, Posher Pukka will be backed by half the brand's £8m investment for 2017.
Sporting a cream-based pack design, rather than Pukka's usual black, the NPD comes in steak & porter ale and chicken, leek & pancetta.
It would tap the growth of "date nights for parents" said new Pukka CEO Deborah Ewan.
The pies would sit in the hot pies segment as a mid-market, or "better", option flanked by "good" products, such as own label and Pukka's original lineup, and "best" pies from the likes of Higgidy, she added. "In this category, you don't see a lot of innovation compared with other categories."
Posher Pukka has an rsp of £2.50 for 235g-240g – in contrast to Higgidy's £3.70 for 250g.
The new range will be joined on shelf by Pukka's first meat-free pie for grocery. The medium-spiced Veggie Tikka Masala with Chickpea & Spinach would appeal to both vegetarians and the growing number of flexitarians, Ewan said.
Pukka – which has also reformulated its family sized pies to reduce cooking time from 50 minutes to 35 – is to support its NPD with the return of its TV ad from earlier this year. It includes new footage as the brand continues its aim to achieve 18.5% market penetration. "We're absolutely on track," said Ewan.