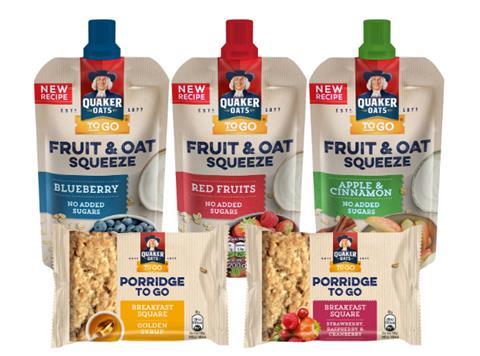 Quaker Oats looks to be preparing a cereal range for children called Quaker Kids, comprising both food and drink options.
The PepsiCo brand recently applied to trademark the name under classes 29 and 30, which cover dairy-based beverages containing oats, oat-based beverages, ready-to-eat cereal, and cereal-based snack foods.
The submission to the IPO, via IP lawyers D Young & Co, suggests the new lineup will have an on-the-go aspect – made more likely by Quaker's most recent NPD having focused on handheld products. In mid-July, it rolled out Porridge To Go Breakfast Squares along with an overhauled Oat & Fruit Breakfast pouches renamed Fruit & Oat Squeeze. The launch was created "for consumers looking for a satisfying, handheld breakfast solution" said Quaker.
The brand would not be drawn on its plan for Quaker Kids, except to say it registered trademarks "for a variety of reasons" and not all plans were followed through.