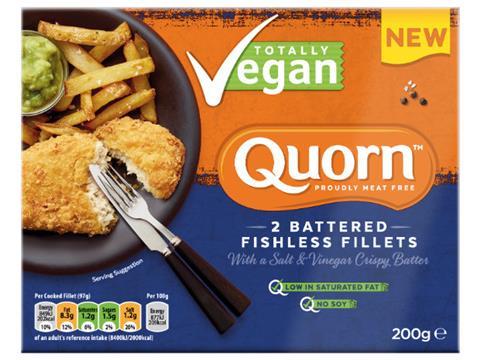 Quorn has kicked off its 2019 NPD programme with a range of seafood alternatives.
The brand is set to roll out its vegan Battered Fishless Fillets with a Salt & Vinegar Batter and Breaded Fishless Fillets with a Lemon Pepper Breadcrumb from March, in response to growing concerns about the increased demand on oceans. The pair join the brand's Fishless Fingers, which will see a packaging refresh to become part of Quorn's new fishless range.
The fishless SKUs, which have been in development for five years, represented a sustainable alternative while delivering the familiar flaky texture associated with white fish, it said.
It comes as the brand released results of a survey, conducted in association with YouGov last month, that found 52% of British adults were consciously reducing the amount of meat in their diets. Meanwhile, public awareness of food production on the environment was reaching record levels following the release of an Intergovernmental Panel on Climate Change report in October last year, said Quorn.
Quorn marketing director Alex Glen told The Grocer more than 80% of customers who bought the brand's products were not vegetarian or vegan, with the majority of consumers now "dipping in and out" of meat-free alternatives.
"Now that sustainability is influencing consumer choice more than ever, we'll continue to make it as easy as possible for consumers to reduce their meat consumption with Quorn," said Glen.
"The introduction of the two new fishless products means that Quorn is the only UK meat-free supplier to provide meat alternatives for the UK's top five family meal occasions, including fish & chips, reinforcing the brand's mainstream appeal. It is the number one choice for consumers looking for healthy, great-tasting alternatives to their everyday favourites while reducing their impact on our planet."
The new range will be backed by its 'Healthy protein, healthy planet' campaign, with TV ads dedicated to the new fishless SKUs. The ads will run as part of a £12m brand investment, which will see mass media advertising for 50 weeks of the year, in addition to a push on its digital presence to engage younger consumers.