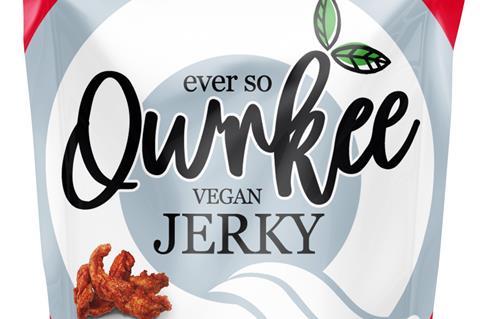 Plant-based startup Qwrkee is making its debut in the snacking category with a range of Vegan Jerky.
Four variants will roll out this week to Whole Foods Market and Amazon, made from soy protein and flavoured by natural ingredients such as soy sauce, apple cider vinegar and beetroot juice. Each 100g provides as much as 27.6g of protein.
Packed in 100% recyclable plastic pouches, Smoked Maple Bacon, Smoked Black Pepper, Sweet & Spicy BBQ, and Sriracha Hot Chilli (rsp: £3/70g) focused on "bold flavour combinations that deliver on taste, whilst the texture is a real match for meat jerky" said Qwrkee.
Vegan Jerky marked the brand's "next step in our mission to further the plant-based foods movement and create foods for the future" said founder Vishal Madhu.
Last month, Qwrkee made its retail debut with two variants of plant-based Pea M'lk, Sweetened and Unsweetend (rsp: £3/one litre).
"Entering the snacking category is an exciting move for our business, and we have a number of future innovations in the pipeline," Madhu added. The brand's next launch into grocery is expected to be a lineup of probiotic puffs made from the likes of beetroot and cauliflower.