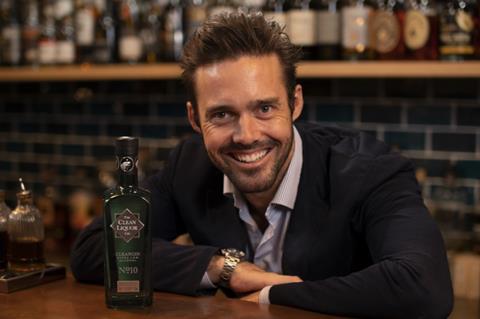 Made in Chelsea and Celebrity MasterChef star Spencer Matthews has launched an ultra-low abv gin containing only two calories per 25ml serving.
CleanGin, which is due to roll out in 496 Sainsbury's stores in January (rsp £24.99/700ml), is the first drink to be revealed by Matthews' new business, The Clean Liquor Company.
Billed as capturing all the "character and taste of a great London dry gin", it counts juniper, orris root, ground cardamom, coriander seeds, angelica root, lemon zest and peppermint oil among its botanicals.
As many as 1,000 bottles of the 1.2% abv tipple sold out within 24 hours of being promoted on the star's social media channels.
The fledgling brand was also working on developing a "spiced rum, whisky and a lighter bourbon", Matthews told The Grocer.
"We'd be interested in looking at clean tequila from Mexico, clean bourbon from the United States and clean gin here with the view to ultimately end up with a clean bar in which you can have any cocktail you want without the alcohol, or extremely little alcohol," he added.
Funding from family and friends enabled Matthews to "get the project off the deck" but he revealed it was currently in the final stages of "raising a seven-figure sum from a fund in the United States".
The gin, which is produced by Union Distillers, was made using "traditional distilling methods and techniques", he stressed.
The 1.2% abv strength was chosen as it allowed the company to "get that distinctive dry juniper-driven taste", added Justin Hicklin, chairman of The Clean Liquor Company.
"If you start to pull back a long way from there it's more difficult to get that great G&T sensation from an ultra-low product," he said. "Our aspiration is for somebody who loves a gin & tonic [to] pick a glass of ours up and really be satisfied."
The idea for the drink was born when Matthews, who is married to model Vogue Williams, "dramatically changed" his own relationship with alcohol a year-and-a-half ago.
"Sobriety is a lifestyle choice I made a few months before becoming a dad," he said. "I quickly realised that the drink choices for the sober-curious were limited, mainly made of sugary and unhealthy options. So, I worked with a great team to build a premium no/lo brand and flagship product that offers a new option for people."
William Reed – the publisher of The Grocer – has launched a new trade show exclusively for the low and no alcohol sector. For more information, visit low2nobev.com