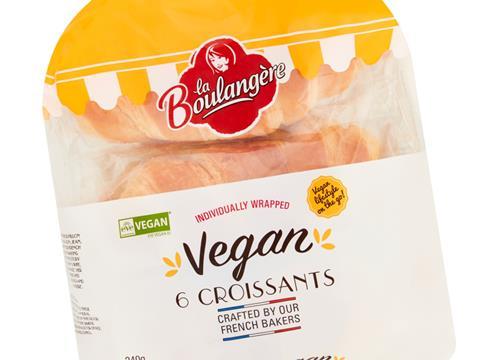 Sainsbury's has added vegan croissants and pains au chocolat to its plant-based range in an in-store supermarket first.

The products from French supplier La Boulangère are designed to taste as buttery and flaky as regular versions of the pastries without using butter in the recipe. La Boulangère also replaced palm oil with shea butter.
They have been launched as part of the supermarket's bid to adhere to growing demand for vegan products. It has seen an 82% increase in customers searching for vegan products online, and a 45% increase in sales of plant-based products year on year. Sainsbury's has already expanded its plant-based range four times since it was introduced in January 2018, and it now compromises of over 100 lines.

The pastries have launched in 300 Sainsbury's stores nationwide at £2.50 for a pack of six.

"We know more of our customers than ever before are exploring plant-based lifestyles, and so it's very exciting to be the first to launch vegan versions of these bakery favourites," said Sainsbury's viennoiserie buyer Simon Millea.