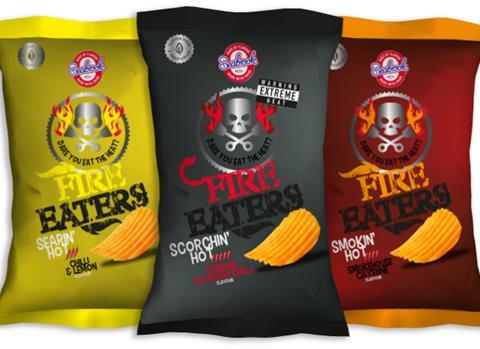 Seabrook Crisps is tapping the trend for spicy food with the addition of a "super hot" range of potato crisps.
The Fire Eaters lineup promises rising degrees of heat, with the three variants comprising Searin' Hot – Chilli & Lemon; Smokin' Hot - Smokehouse Cayenne; and Scorchin' Hot – Trinidad Scorpion Chilli.
The chillies used in the crisps were so strong that staff at Seabrook's Bradford factory "had to wear specially protective clothing when it is in production, including masks, gloves, and safety glasses" said the West Yorkshire snacks supplier.
The Scorchin' Hot flavour, made with "the second-hottest chilli variety in the world", carries an 'extreme heat' warning on pack.
Rolling out from mid-October to Tesco, the launch of Fire Eaters (rsp: £1.59/150g) will be backed by digital advertising, social media and a consumer PR campaign, including an "influencer outreach programme".
Consumers will be invited to take the 'Seabrook Fire Eaters' challenge by documenting their attempts to tackle the new range, from mildest to hottest, and then sharing their reactions on social media.
Seabrook was "known as a bold brand which pushes boundaries – and the new Fire Eaters range is a prime example of this" claimed the company's commercial director, Jon Wood.
"There are so-called spicy flavours in the market currently, but nothing as fiery as these," he said. "Consumers tell us that crisps and snacks that claim to be hot are always a let-down, as they are never hot enough. The Fire Eaters range will fix this once and for all."
The NPD comes less than a week after Calbee UK, part of the $2.3bn Japanese snacking giant Calbee, acquired Seabrook's 160-strong operation for an undisclosed sum.