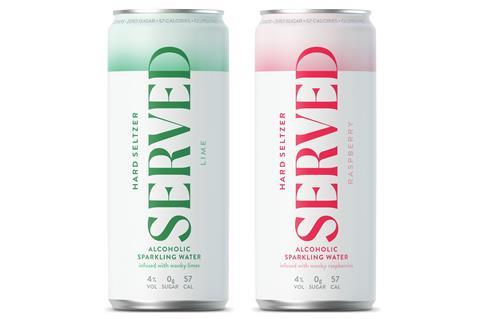 Hard seltzer brand Served is to make its debut, backed by heavyweight investors, with variants infused with wonky fruit.
The 4% abv drink will launch next month in Raspberry and Lime flavours – comprising pure spirit, sparkling water and sustainably sourced fruit that would otherwise have gone to waste.
Per 250ml can (rsp: £2.50), Served contains 57 calories (23kcals per 100ml) and zero sugar.
It will hit Selfridges from 22 July followed by Served's online store in late August, with 5% of profits going towards helping protect endangered species around the world.
Served was founded by brothers Dean and Ryan Ginsberg. The former restaurateurs wanted to offer "discerning, busy and sociable drinkers" a product that could fit in with a "modern health-conscious social lifestyle" they said.
Their brand has received backing from industry investors including Terra Firma Capital Partners founder Guy Hands, Pearlfisher founders Mike Branson and Jonathan Ford, former Fiji Water director Brad Berman, and CrowdCube CEO Darren Westlake.
Served was a "great, relevant product that outshines the competition" said Ford. The brand would be "a major player in an incredibly exciting category".