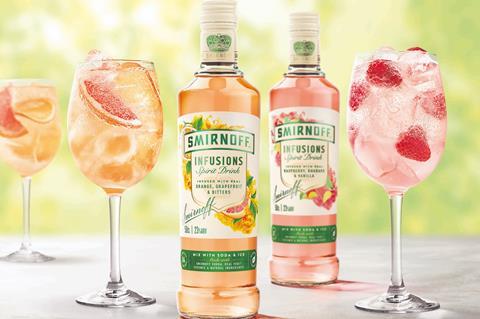 Smirnoff has unveiled a duo of lower-alcohol flavoured 'Infusions' drinks.
They are: Smirnoff Infusions Orange, Grapefruit & Bitters and Smirnoff Infusions Raspberry, Rhubarb & Vanilla. They are both 23% abv (rsp: £14/50cl).
Smirnoff marketing manager for Europe Sarah Shimmons said the process of making the drinks "sees real fruits infused and distilled individually for the perfect amount of time to allow their natural flavours to be extracted".
She added: "The resulting spirit srink is blended with Smirnoff No. 21 vodka and crafted at 23% abv, to ensure the perfect balance of natural and fruity flavours at the heart of the liquid, with good spirit cut-through."
The brand is recommending they be paired with soda for a low-calorie serve.
The launch will be backed by a £4.4m above the line campaign, which Smirnoff said would reach 97% of the UK population of legal purchase age during the drinks' first year on the market.