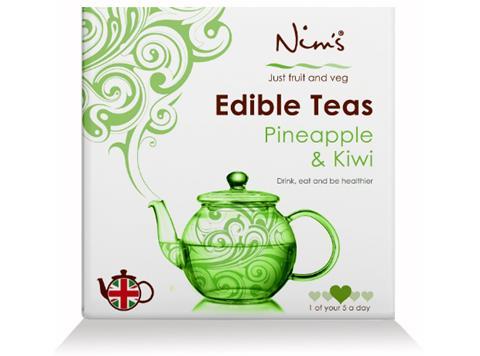 Nim's has moved beyond healthy bagged snacks for the first time, and into hot drinks.
The maker of air-dried fruit and vegetable crisps has unveiled Edible Teas – a selection of loose fruit and veg infusions that can become a hot brew or eaten as a snack.
The new range was a first for the hot beverages category and would "revolutionise the drinks industry" Nim's claimed. It is made exclusively of dried fruit and vegetables, "making it a healthy alternative to caffeinated or herbal teas".
Edible Teas is available via Nim's website and through selected independent retailers, with an rsp of £2.50 per 12-pack of 20g portions – each of which counts as one of the 5 a day.
Variants are Pineapple, Beetroot & Parsnip; Pineapple & Kiwi; and Beetroot & Parsnip. They are made at an allergen-free facility in Sittingbourne.
With Nim's crisps having secured major listings at Tesco, Co-op and Ocado, the brand had "decided to look at other ways we could use air-dried fruit and veg" said founder Nimisha Raja. "We completed some initial market research, and tastings proved very successful. The appetite was definitely there for these products."
Edible Teas comes after Nim's launched a range of air-dried fruit and veg slices for drinks in foodservice – designed to reduce food waste and preparation time in bars, cafés and restaurants. The cucumber, lime, lemon and orange slices had "proved immensely successful, especially over the Christmas period" Raja said.