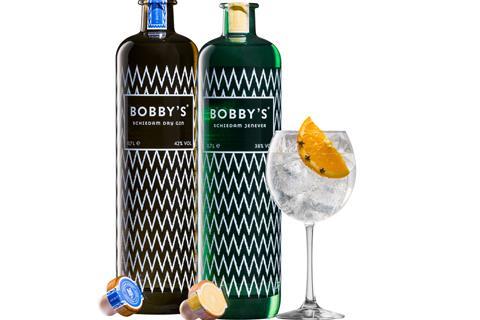 Spirit Cartel has added a 'Dutch-Indonesian hybrid' gin and jenever.
Bobby's Schiedam Dry Gin (42% abv) is made with eight botanicals including juniper, clove, cinnamon and lemongrass, which Spirit Cartel said gave it "a distinctive eastern element".
Schiedam Jenever (38% abv), meanwhile, is made with five botanicals – juniper, cardamom, ginger, lemongrass and cubeb pepper – and is based on a traditional malt wine.
It was "fragrant on the nose, with a fresh burst of lemongrass and herbs at the very first sip, said Spirit Cartel, and was "best enjoyed net in a tumbler or mixed with ginger ale and a mint sprig".
The brand is named after the grandfather of the brand's two founders, who emigrated to Holland in the 1950s from Indonesia, but "missed the taste of Indonesia and started infusing Dutch jenever with spices from his homeland". The grandsons partnered with the Herman Jansen distillery in Schiedam to create the liquids.
They have rolled into online retailers Master of Malt and Amathus, and are available directly from Spirit Cartel (rsp: £35.99 to £37.99/70cl).
Spirit Cartel has also this month added the latest limited edition small batch whiskey from Four Roses Bourbon (56.3% abv). It is billed as having "elegant aromas of oak, honey, red raspberries and vanilla", and approximately 3,700 bottles will be distributed in Europe (rsp: £195/70cl).